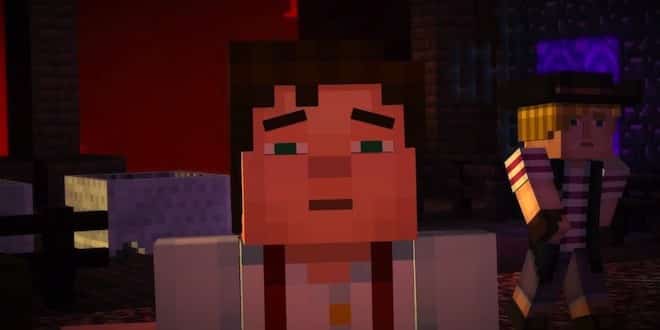 Telltale a profité de la Minecon 2015 pour révéler le premier trailer de Minecraft : Story Mode.
Annoncé en décembre dernier, Minecraft : Story Mode a enfin hérité d'une bande-annonce ainsi que de premières infos. On apprend ainsi que ce titre mettra en scène un groupe d'amis à la recherche de l'Ordre de la Pierre (The Order Of The Stone en VO) au cours d'une aventure qui, nous promet-on, évoluera selon les choix du joueur. A ce sujet, seul Jesse sera jouable dans Minecraft Story Mode. Ce personnage sera doublé par Patton Oswalt et il sera accompagné par d'autres acteurs plus ou moins connus du grand public comme Brian Posehn, Scott Porter, Martha Plimpton, Dave Fennoy, Corey Feldman, Billy West, Paul Reubens ou encore Ashley Johnson, alias Ellie dans The Last Of Us.
Développé par Telltale Games, studio notamment à l'origine de The Walking Dead et The Wolf Among Us, Minecraft Story Mode sera découpé en 5 épisodes. Le premier devrait normalement arriver dans les prochaines semaines sur PC, iOS, Android, Xbox 360, PlayStation 3, Xbox One et PlayStation 4.