En attendant qu'Activision officialise enfin le prochain Call Of Duty, les fuites se multiplient.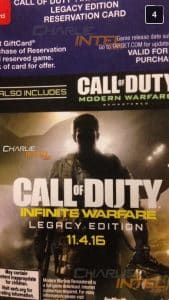 A moins que l'on assiste à nouveau à des « fakes » très élaborés, le nouveau Call Of Duty devrait vraisemblablement être sous-titré Infinite Warfare, faisant ainsi écho aux précédents Call Of Duty: Modern Warfare ou à Infinity Ward, studio de développement à l'origine de la série Call Of Duty et à la tâche sur cet épisode 2016 après avoir livré, en 2013, Call Of Duty: Ghosts.
Selon un prospectus invitant à précommander ce Call Of Duty: Infinite Warfare, une date de sortie aurait déjà été calée au vendredi 4 novembre et une version collector du jeu, intitulée Legacy Edition, inclurait une version remasterisée de Call Of Duty 4: Modern Warfare, sans qu'on ne sache si le multi de ce jeu, commercialisé pour la première fois en 2007, serait également de la partie.
Méfiance néanmoins puisque le logo de Call Of Duty 4: Modern Warfare sur cette petite affiche ne correspond pas totalement à celui que l'on peut voir sur la pochette officielle du jeu.
Il y a un mois, Eurogamer affirmait que ce Call Of Duty 2016 se déroulerait dans un lointain futur, dans l'espace.
En illustration, une image de Call Of Duty: Ghosts.
–Via–