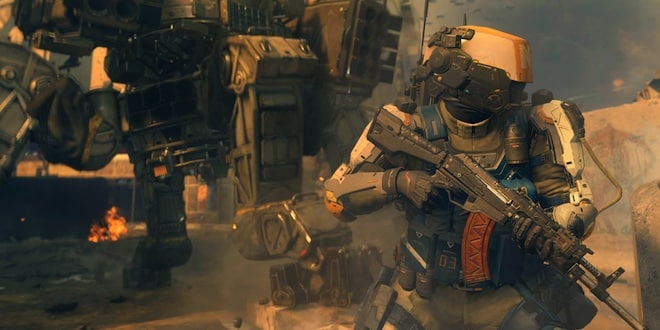 Activision fait la promotion de la future beta multi de Call Of Duty Black Ops 3 avec un nouveau trailer.
Une semaine avant le début de la beta de Call Of Duty : Black Ops 3, Activision fait le point sur le contenu de celle-ci tout en étant légèrement confus à son sujet. Dans le trailer ci-dessous, l'éditeur américain refuse ainsi de donner des chiffres exacts et évoque plus de 7 modes de jeu et plus de 3 cartes disponibles au cours de cette phase de test. Sur son site, Treyarch indique cependant qu'il n'y aura bien que 3 cartes (Hunted, Combine et Evac) et 7 modes : TDM, Domination, Demolition, Kill Confirmed, Hardpoint, Capture The Flag et Search & Destroy. Activision et le développeur sont toutefois d'accord sur le nombre de spécialistes inclus dans la beta (il y en aura 8) et sur la présence du Weapon Paintshop qui sert à personnaliser ses armes. Quant à l'XP engrangé à coup de multi-frag entrainant au passage quelques démembrements, il ne sera pas transféré vers la version finale.
Ce trailer à 60fps rappelle aussi le nouvel accord existant entre Activision et Sony qui vise à favoriser le constructeur japonais. Les joueurs PS4 seront ainsi les premiers servis et pourront découvrir ce mode multijoueur du 19 au 23 août. Sur PC et Xbox One, la beta de Call Of Duty Black Ops 3 s'étalera du 26 au 30 août. Enfin, les modalités pour débloquer un accès à cette beta sont des plus simples : précommander le jeu.
Call Of Duty : Black Ops 3 sortira le 6 novembre sur PC, Xbox One et PlayStation 4 donc, mais aussi sur PS3 et Xbox 360. En plus de n'avoir droit à aucune beta, ces versions old-gen ne devraient pas non plus disposer des mêmes fonctionnalités, mais là encore, Activision se réserve bien de donner des détails.