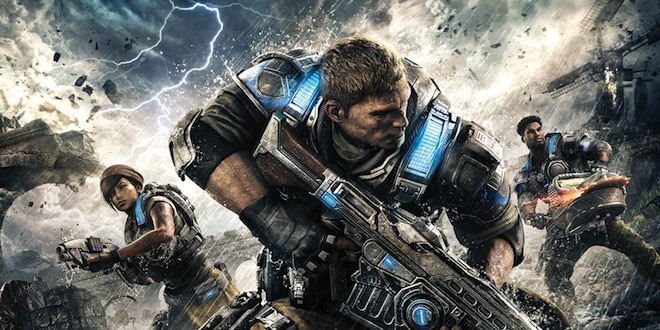 Microsoft et The Coalition viennent de mettre en ligne le tout premier trailer de Gears Of War 4, une bande-annonce qui a pour titre « Tomorrow ».
Ne montrant aucune véritable image du jeu, cette courte vidéo de Gears Of War 4 vise à rappeler que ce titre nous mettra aux commandes de JD Fenix, le fils de Marcus, et que les intempéries seront nombreuses dans cette suite située 25 ans après les événements de Gears 3. Face à de violents orages, il faudra en effet parfois trouver un abri tandis que les rafales de vent auront un impact sur le gameplay; on évitera ainsi d'envoyer une grenade avec un vent de face.
Gears Of War 4 est pour le moment uniquement prévu sur Xbox One pour le 11 octobre 2016. Une beta multijoueur débutera la semaine prochaine pour tous les possesseurs de Gears Of War : Ultimate Edition (PC Windows 10 et Xbox One) puis s'ouvrira dans 15 jours à tous les titulaires d'un compte Xbox Live Gold.
Chanson utilisée par ce trailer de Gears Of War 4 : Disturbed – The Sound Of Silence. (une reprise de Simon & Garfunkel)