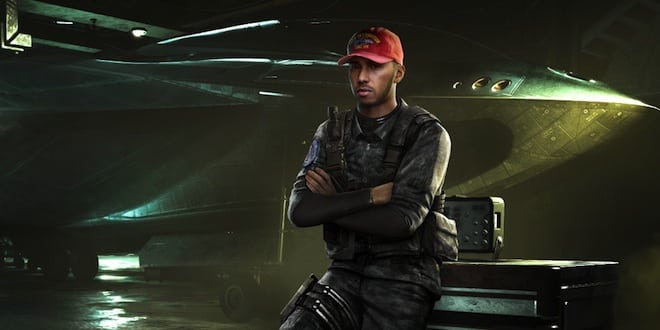 Activision a annoncé que, ce week-end, l'ensemble des joueurs PS4 pourrait jouer à la beta de Call Of Duty: Infinite Warfare.
Le week-end dernier, Infinity Ward et Activision proposaient une beta du mode multijoueur de Call Of Duty: Infinite Warfare sur PlayStation 4, mais seules les personnes ayant précommandé ce jeu y avaient accès. Pour cette nouvelle phase de test, l'éditeur et le développeur américain ont décidé de mettre à rude épreuve leurs serveurs en ouvrant davantage cette beta. Ainsi, les joueurs Xbox One qui ont déjà pré-acheté le jeu pourront y jouer, en plus de l'ensemble des joueurs PlayStation 4, qu'ils soient intéressés ou pas par ce titre futuriste. Activision laisse également entendre que le PlayStation Plus ne sera pas obligatoire pour profiter de cette beta multijoueur.
Par ailleurs, on a récemment appris que Lewis Hamilton, le célèbre champion de F1, sera lui aussi dans Call Of Duty: Infinite Warfare, comme le montre l'illustration de cet article. Quant au trailer ci-dessous, il s'agit du (premier?) trailer de lancement.