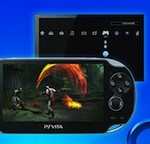 Le PlayStation Blog nous annonce que les possesseurs de God Of War Collection et ICO & Shadow Of The Colossus Classics HD peuvent dès à présent y jouer n'importe où depuis leur PSVita grâce à la magie du Remote Play et du Wi-Fi.
Mais avant de pouvoir jouer à distance à ces deux compilations, dont les boutons R2/L2 et R3/L3 sont remplacés par l'écran tactile et le pavé arrière, il faudra télécharger un programme gratuit sur sa PS3.
Pour rappel, le constructeur japonais mise beaucoup sur la connexion entre la Vita et sa grande sœur, la PS3, avec du Cross-Play, Cross-Controller, Cross-Save, Cross-Goods et Cross-Buy. Tous ces noms compliqués sont expliqués dans ce billet.