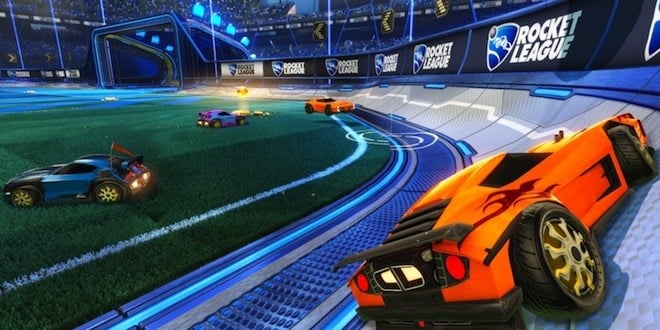 Sony a révélé les meilleures ventes de l'année en Europe et aux Etats-Unis sur le PlayStation Store. D'un côté ou de l'autre de l'Atlantique, le vainqueur est le même: Rocket League. Beau tir! Merci! Belle passe! Merci!
De l'aveu même de Psyonix, placer Rocket League sur le PlayStation Plus au moment de sa sortie a été une décision très difficile à prendre. Il y avait bien sûr cette crainte que tous les abonnés au service payant de Sony le récupèrent gratuitement et que plus personne ensuite ne l'achète. Si plusieurs milliers voire même millions d'utilisateurs ont bien téléchargé le jeu sans dépenser le moindre euro-dollar, en 2016, Rocket League a continué sa folle progression et est devenu le jeu le plus vendu de l'année sur le PlayStation Store. Une sacrée performance qui signifie que ce jeu de voiture/sport/foot a réussi à faire mieux que No Man's Sky, Minecraft, Overwatch ou FIFA 17, des titres qui ont néanmoins eu droit à d'importantes sorties physiques. Cela dit, Rocket League a aussi vu débarquer dans les rayons cet été une version boîte.
On notera aussi la bonne performance de la licence Battlefield, sans doute grâce à de fréquents soldes, l'incroyable endurance de GTA V, la percée de Ark, le bon maintien de Need For Speed ou cette petite déception de ne pas voir plus haut dans ces tops l'excellent Hitman.
Les 20 jeux les plus téléchargés sur le PlayStation Store en 2016 en Europe
Rocket League (PS4)
Battlefield 4 (PS4)
Battlefield 1 (PS4)
Destiny: Rise of Iron (PS4)
Grand Theft Auto V (PS4)
Uncharted 4: A Thief's End (PS4)
Need for Speed (PS4)
Minecraft: PlayStation 4 Edition (PS4)
Call of Duty: Infinite Warfare (PS4)
Ark: Survival Evolved (PS4)
FIFA 16 (PS4)
Battlefield Hardline (PS4)
The Division (PS4)
Rainbow Six Siege (PS4)
Hitman (PS4)
The Witcher 3: Wild Hunt (PS4)
Star Wars Battlefront (PS4)
Ratchet & Clank (PS4)
Far Cry Primal (PS4)
Les 20 jeux PlayStation 4 les plus téléchargés sur le PlayStation Store en 2016 en Amérique du Nord
Rocket League
Battlefield 1
Minecraft: PlayStation 4 Edition
Call of Duty: Infinite Warfare
The Division
Grand Theft Auto V
Overwatch: Origins Edition
Battlefield 4
No Man's Sky
NBA 2K17
Need for Speed
Star Wars Battlefront
Rainbow Six Siege
Madden NFL 17
The Elder Scrolls V: Skyrim Special Edition
Uncharted 4: A Thief's End
The Last Of Us Remastered
Final Fantasy XV
Petite surprise, la version américaine du PlayStation Blog révèle également quels ont été les jeux PS3, les DLC, les jeux VR, les PlayStations Classics et les jeux PSVita les plus populaires de l'année sur le Store. Pêle-mêle, les anciens jeux Rockstar continuent de mener une belle vie, les contenus téléchargeables de Call Of Duty séduisent toujours autant, il y a peu de jeux indés dans le top 10 Vita, et la Batmobile de Rocket League a connu un joli succès.
Les 20 jeux PlayStation 3 les plus téléchargés sur le PlayStation Store en 2016 en Amérique du Nord
Minecraft: PlayStation 3 Edition
The Last Of Us
Grand Theft Auto V
Plants vs. Zombies Garden Warfare
Battlefield 4
Call of Duty: Black Ops III
Need for Speed Most Wanted
Watch Dogs
Dragon Ball Xenoverse
Dark Souls II
Goat Simulator
Red Dead Redemption
Grand Theft Auto: San Andreas
Gran Turismo 6
Battlefield Hardline
MLB The Show 16
Les 10 jeux PlayStation VR les plus téléchargés sur le PlayStation Store en 2016 en Amérique du Nord
Job Simulator
Batman: Arkham VR
Until Dawn: Rush of Blood
PlayStation VR Worlds
Keep Talking and Nobody Explodes
Here They Lie
Sports Bar VR
Carnival Games VR
Harmonix Music VR
EVE: Valkyrie
Les 10 DLC PS4 les plus téléchargés sur le PlayStation Store en 2016 en Amérique du Nord
Call of Duty: Black Ops III – Awakening
Destiny: Rise of Iron
The Elder Scrolls Online: Tamriel Unlimited – ESO Plus
Call of Duty: Black Ops III Season Pass
Call of Duty: Black Ops III – Eclipse
Call of Duty: Black Ops III – Descent
Black Ops III – The Giant Zombies Map
Call of Duty: Black Ops III – Salvation
Rocket League – Batman v Superman: Dawn of Justice Car Pack
Star Wars Battlefront Season Pass
Les 10 jeux PlayStation Classics plus téléchargés sur le PlayStation Store en 2016 en Amérique du Nord
Grand Theft Auto: San Andreas
Bully
Grand Theft Auto: The Trilogy
Dark Cloud 2
Twisted Metal: Black
The Warriors
Grand Theft Auto: Vice City
Star Wars Bounty Hunter
Rogue Galaxy
Manhunt
Les 10 jeux PlayStation Vita les plus téléchargés sur le PlayStation Store en 2016 en Amérique du Nord
Digimon Story Cyber Sleuth
Minecraft: PlayStation Vita Edition
GOD EATER: Resurrection
XCOM: Enemy Unknown Plus
Borderlands 2
Persona 4 Golden
Jak and Daxter Collection
Sword Art Online -Hollow Fragment-
Ratchet & Clank Collection
Severed