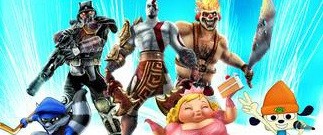 PlayStation All-Stars Battle Royale, alias le Smash Bros version Sony, sortira le 24 octobre en Europe sur PS3 et Vita. En cas de précommande, chaque futur acheteur recevra un pack de costumes alternatifs.
Pour rappel, PSAS Battle Royal permettra le cross-platform, ce qui signifie que les joueurs PS3 pourront affronter les possesseurs d'une version Vita, tandis que tous les DLC seront partagés. Une offre spéciale pour les versions PS3 et Vita pourrait également voir le jour d'après le PlayStation Blog.
A l'occasion de l'EVO 2012, deux nouveaux personnages ont été annoncés cette nuit: Heihachi et Toro.
Chose curieuse, Amazon et Micromania listent chacun de son côté PlayStation All-Star Battle Royale pour le 17 octobre. Et ces deux mêmes sites annoncent également que LittleBigPlanet Karting, dont la Beta débutera dans les prochains jours, sortira le 7 novembre. A suivre.
Regardons ce que ça nous donne au niveau des plannings de sortie pour le mois d'octobre:
2/10 – Just Dance 4 et Resident Evil 6
5/10 – Dragon Ball Z Kinect et NBA 2K13
9/10 – Sniper Ghost Warrior 2
12/10 – Dishonored, Pokemon version blanche/noire 2, Fable The Journey et XCOM Enemy Unknown
19/10 – 007 Legends et Doom 3 édition BFG
23/10 – Forza Horizon
24/10 – PlayStation All-Stars Battle Royale
25/10 – Medal Of Honor Warfighter
31/10 – Assassin's Creed 3
C'est ce que l'on appelle un mois chargé!