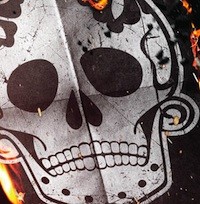 C'en est presque une tradition, à chaque nouvelle couverture de Game Informer, l'annonce d'un nouveau jeu. Le numéro de septembre du célèbre magazine américain, disponible dans quelques jours, a ainsi l'honneur de dévoiler les premières informations sur Army of Two: The Devil's Cartel.
Développé par Visceral Games (Dead Space), ce troisième épisode d'Army Of Two se présente comme un renouveau pour la série. L'aspect coop sera bien entendu toujours de la partie, mais l'histoire et l'ambiance seront ici plus matures. Le jeu mettra d'ailleurs en scène deux nouveaux personnages aux pseudonymes très recherchés, Alpha et Beta, en plein Mexico.
Zach Mumbach, le producteur d'Army Of Two : TDC nourrit de grandes ambitions sur ce titre et indique que 'les deux premiers épisodes étaient de bons jeux, mais ils n'étaient pas de supers jeux'. Et bien que 'plaisants à jouer, ils n'atteignaient pas ce niveau où l'on dit à tous ses amis: Mec, tu dois jouer à ce jeu'.
I felt like the first two Army games were good games, but they weren't great games. They were memorable and they were fun to play, but they weren't on that level where you're going to tell all your friends, 'Man, you have to play this game'.
Army Of Two The Devil's Cartel utilisera le Frostbite 2, le moteur de Battlefield 3, ce qui promet un environnement destructible. Sa sortie est prévue sur Xbox 360 et PlayStation 3 pour mars 2013.