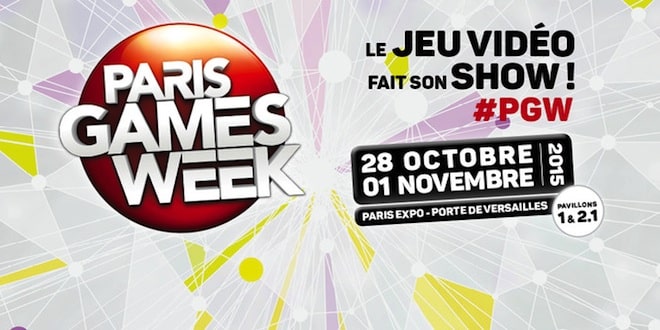 On y est : la sixième édition du (de la?) Paris Games Week débutera officiellement dès demain. Cinq jours pendant lesquels les visiteurs pourront tester les jeux de cette fin d'année, découvrir une sélection de titres prévus pour le premier semestre 2016 ou encore parfois rencontrer et échanger avec différents acteurs du jeu vidéo. Voici un petit guide pratique recensant toutes les informations importantes.
Où : Paris Expo – Porte de Versailles; Pavillons 1 et 2.1
Dates : du mercredi 28 octobre au dimanche 1er novembre 2015
Horaires d'ouverture : de 9h à 19h du mercredi au samedi; de 9h à 18h le dimanche
Prix sur place : 17€ en plein tarif, 12€ pour les mineurs et étudiants ; tarif unique le samedi à 17€. Entrée gratuite pour les moins de 7 ans
Pour consulter le plan du PGW,

cliquer ici

.
Présence de l'ESWC avec des compétitions sur League Of Legends, Trackmania, Counter Strike GO, Just Dance, Shootmania, World Of Tanks, Heroes Of The Storm ou encore FIFA 16.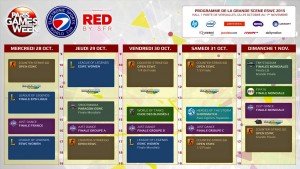 Des espaces jeux français, écoles & formations, librairie, retrogaming et PGW Junior
Principaux jeux présents (tous ne seront pas jouables) : LEGO Marvel's Avengers, Deus Ex Mankind Divided, Hitman, Just Cause 3, Nier : Automata, Final Fantasy XV, Plants vs. Zombies: Garden Warfare 2, Star Wars Battlefront, Guitar Hero Live, Call Of Duty : Black Ops 3, Skylanders SuperChargers, Mighty N°9, Quantum Break, Rise Of The Tomb Raider, Cuphead, Ratchet & Clank, Uncharted 4, Naruto Shippuden Ultimate Ninja Storm 4, Battleborn, Homefront The Revolution, Rainbow Six Siege, Dark Souls 3, The Division, Mario Tennis Ultra Smash, PlayStation « Morpheus » VR. . .